• $12,250 Monthly Rental Income
• Multiple Tenants
• Highway 51 Frontage
• 5 Commercial Buildings
• Loading Dock
• Numerous Commercial & Residential Building Sites
Open House / Inspection Dates
Thursday, January 20th
Thursday, February 3rd
Thursday, February 17th
From 9:00 AM to Noon
Deliver Bids to 101 N Main St, ATTN: Brent Wellings, Stillwater, OK 74075
Tract 1: 12± ac with frontage along Highway 51 and N Prairie Rd, including 4 commercial buildings and adequate space for more development. Current monthly rental income is $8,750.
Tract 2: 10± ac with frontage along Highway 51, including 1 commercial building and a commercial storage yard currently leased, with monthly income of $3,500.
Tract 3: 9± ac located along Prairie Rd, excellent potential building site with paved road frontage and easy access to Stillwater!
Tract 4: 9± ac located along Prairie Rd, another excellent potential building site with level topography and lots of spots to build!
Tract 5: 8± ac located along Prairie Rd, a third outstanding potential building site in the offering.
TRACT MAP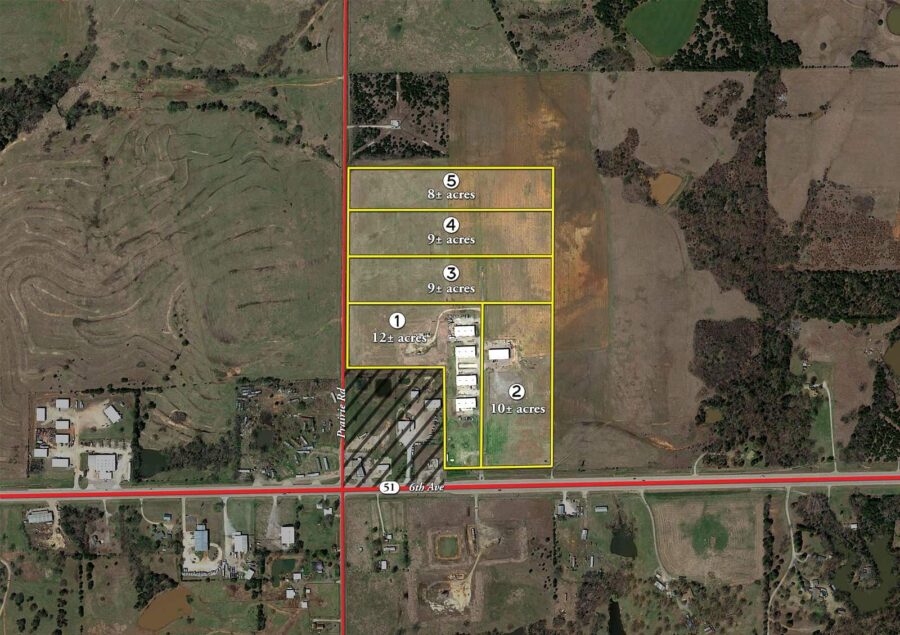 AREA MAP
BIDDING PROCEDURE: The property will be offered via a Sealed Bid Auction with bidding procedures more specifically outlined in the Sealed Bid Packet. The final bids are subject to the Seller's acceptance or rejection.
PURCHASE CONTRACT: With the submission of a Bid(s), each Buyer is required to sign the purchase contract documents in the forms provided in the Sealed Bid Packet. All statements and information in the marketing materials are subject to the terms and conditions of the purchase contract documents. Seller shall not be bound by any statement, promise or inducement that is not contained in the purchase contract documents.
BUYER'S PREMIUM: The purchase price will be the bid amount plus a 4% buyer's premium.
DOWN PAYMENT: 10% of the total contract purchase price will be due as a down payment on the day of auction, with the balance due in cash at closing. The down payment may be made in the form of cashier's check, personal check, or corporate check.
YOUR BIDDING IS NOT CONDITIONAL UPON FINANCING, SO BE SURE YOU HAVE ARRANGED FINANCING, IF NEEDED, AND ARE CAPABLE OF PAYING CASH AT CLOSING.
DEED: Seller shall be obligated only to convey a merchantable title by Warranty Deed.
EVIDENCE OF TITLE: Seller agrees to make available to bidder a preliminary title insurance commitment to review prior to auction. The cost of title insurance, if the buyer(s) elects to purchase the title insurance policy, will be the responsibility of the buyer(s). Seller agrees to provide merchantable title to the property subject to matters of record, general conditions of title, and similar related matters. All tracts sold "AS–IS".
CLOSING: The closing shall take place 45 days after the auction or as soon thereafter as applicable closing documents are completed by Seller.
POSSESSION: Possession shall be at closing, subject to rights of current tenants.
SURVEY: A new survey will be obtained only in necessary to record the conveyance or if otherwise deemed appropriate in the Seller's sole discretion. If a new survey is obtained, the survey cost will be shared equally by Seller and Buyer.
TRACT MAPS / ACRES: Tract maps and advertised acres are approximations based on existing tax parcel data, legal descriptions &/or aerial mapping data and are not provided as survey products.
REAL ESTATE TAXES: Real Estate taxes shall be prorated to the date of closing.
MINERALS: Seller specifically excepts and reserves all minerals, including without limitation, oil, gas, coal, coalbed methane, and all other hydrocarbons, lignite, and all metallic minerals, etc., if any, associated with the referenced real estate, and the term "Property" will not include any mineral rights.
CONDUCT OF AUCTION: The conduct of the Sealed Bid Auction will be at the direction and discretion of the Auction Company, Seller and its agents reserve the right to preclude any person from bidding if there is any questions as to the person's identity, credentials, fitness, etc.
AGENCY: Schrader Real Estate and Auction Company, Inc. and their representatives are exclusive agents of the Seller. DISCLAIMER AND ABSENCE OF WARRANTIES: ALL PROPERTY IS OFFERED "AS IS, WHERE IS". NO WARRANTY OR REPRESENTATION, STATED OR IMPLIED, IS MADE BY SELLER OR AUCTION COMPANY CONCERNING THE PROPERTY.
Prospective bidders are responsible for conducting their own independent inspections, investigations, inquiries and due diligence concerning the property. The information contained in the marketing materials is provided in order to facilitate (and not as a substitute for) a prospective bidder's pre-auction due diligence. All marketing materials are subject to a prospective bidder's independent verification. Seller and Auction Company assume no liability for any inaccuracies, errors or omissions in such materials. All sketches and dimensions are approximate.
CHANGES: Please regularly check www.schraderauction.com to review any changes and/or additional information. THE PURCHASE CONTRACT DOCUMENTS WILL SUPERSEDE THE MARKETING MATERIALS AND ANY OTHER PRIOR STATEMENTS.