TOTAL SOLD: $99,471
Tract(s): 1+3+12+16+17+22-26
@ $57,970
Tract(s): 2+5-9+13+15+19+21
@ $17,404
Tract(s): 4
@ $14,805
Tract(s): 10
@ $1,837
Tract(s): 11
@ $5,460
Tract(s): 14
@ $351
Tract(s): 20
@ $1,642
• Bidding is scheduled to close at 10AM (CST) on Thursday, January 19, 2023
• Chance to Purchase Minerals Under Your Property!
• Creek, Kay, & Logan Counties
• Large, Diverse Portfolio
• Unique Opportunity to BUY BACK MINERALS!
• Many Investor Quality Acres
An exciting offering of Non-Producing minerals across Creek, Kay & Logan Counties! This portfolio has been owned by the same family for multiple generations and the time has come to sell, creating a unique opportunity for many to purchase minerals that have not been offered for public sale in nearly 100 years. The mineral acres included in this portfolio are non-producing at this time, but the opportunity for future production and leasing on many of these properties is promising.
A very exciting part of this offering, is the opportunity for CURRENT SURFACE OWNERS TO BUY BACK THE MINERALS UNDER YOUR LAND! If you own land in Creek, Kay or Logan County and have received this brochure please pay close attention to the location of the minerals being sold, it is highly likely you own land in the immediate area of minerals included in this sale!
TRACT MAP(S)
Minerals Chart (Updated)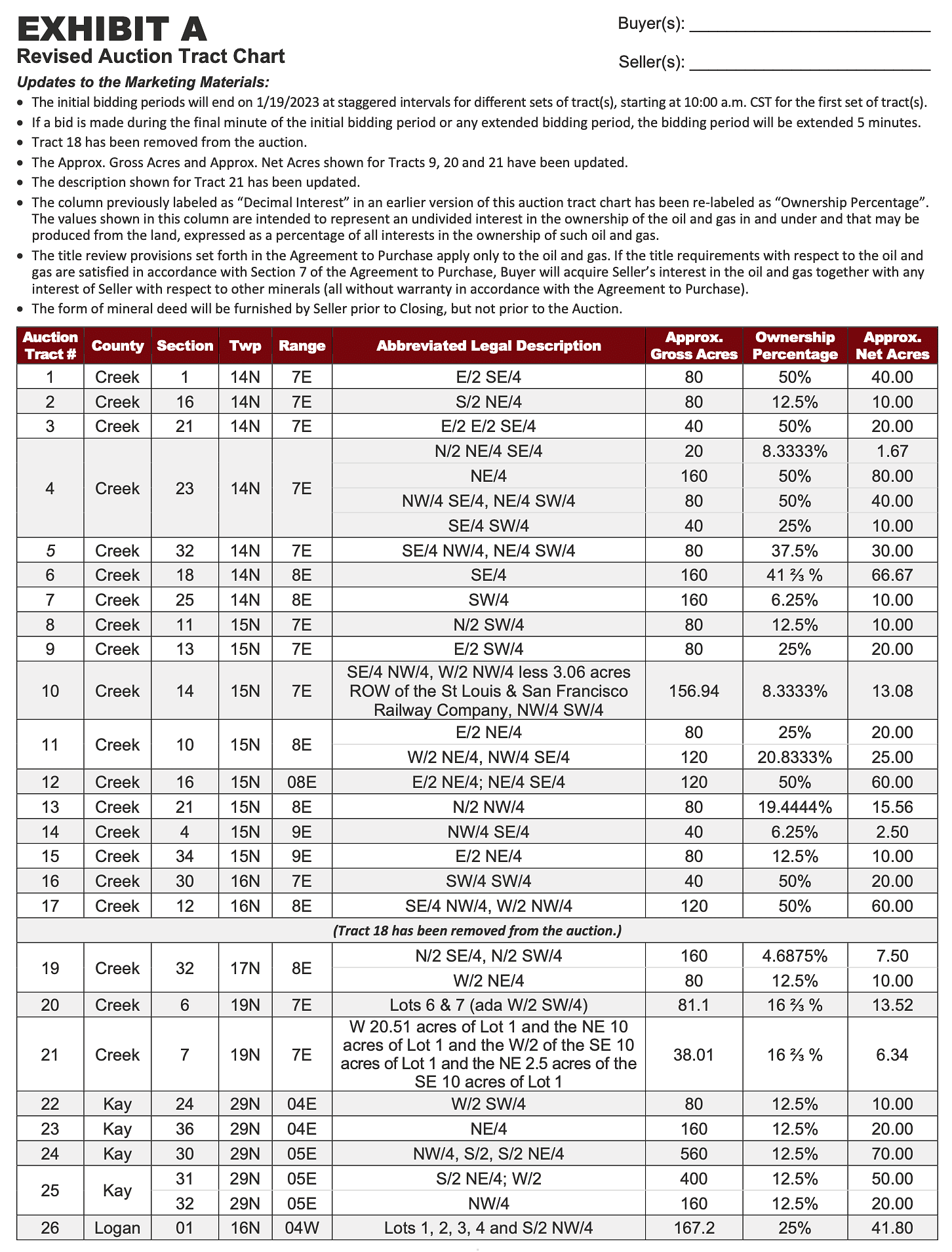 BIDDING PROCEDURE: Each mineral tract will be offered as a separate auction tract via an Online Only Timed Auction. (There will be no bidding on tract combinations.) Bidding is scheduled to close at 10:00 o'clock a.m. (CST) on Thursday, January 19, 2023. However, if any bid is received within the final minute(s) prior to the scheduled close of bidding, the online bidding platform will automatically extend the bidding for a predetermined period (to be established and further explained in the online bidding terms available via the auction website and online bidding platform).
PURCHASE CONTRACT: After the close of bidding, the high bidder on each tract ("Buyer") shall execute a purchase contract in the form of the Agreement to Purchase posted to the auction website. A Buyer purchasing multiple tracts will execute a separate purchase contract for each tract. All final bids and purchase contracts will be subject to the Seller's acceptance or rejection.
BUYER'S PREMIUM: The purchase price will be the bid amount plus a 5% buyer's premium.
PAYMENT: Buyer shall deliver the full amount of the purchase price, including the 5% buyer's premium, by cashier's check or wire transfer to the Escrow Agent on or before Friday, January 20, 2023 (NO EXCEPTIONS), to be held in escrow until closing. "Escrow Agent" refers to American Abstract Company of McClain County, Inc., 138 W. Main St., Purcell, OK (Tel: 405-527-7575).
BUYER'S TITLE REVIEW PERIOD: The purchase contract will provide for a post-auction TITLE REVIEW PERIOD during which Buyer will have the right to conduct, at Buyer's expense, Buyer's own independent examination, evaluation and verification of the title to the purchased minerals and/or the net acreage, and to give notice of any title defect, all in accordance with and subject to the terms of the purchase contract. The TITLE REVIEW PERIOD will end on the date specified in the purchase contract (to be at least 30 days after the auction).
TITLE QUESTIONS: At their own expense, Buyers and prospective bidders may contact the examining Landman, Chase Davison at 405-650-8531 or chase.davison@ymail.com, for any questions regarding advertised acres or other title related issues.
EFFECTIVE DATE & CLOSING: The targeted closing period is on or before March 6, 2023.
DEED: With respect to any particular mineral tract, the Buyer will acquire all of Seller's right, title and interest with respect to the minerals in and under and that may be produced from the particular land identified with such mineral tract, to be conveyed by a mineral deed without warranty. The form of mineral deed will be available to review prior to the auction.
EVIDENCE OF TITLE: Seller has no obligation to provide a mineral title search report or opinion before or after the auction. Buyer will be solely responsible for obtaining and examining all information concerning the title to the purchased minerals and for conducting Buyer's own independent evaluation of the title. Unless Buyer gives proper notice of a title defect before expiration of the TITLE REVIEW PERIOD, Buyer will complete the purchase and accept the title and deed without any covenant or warranty of title.
AS IS: THE PROPERTY COMPRISING EACH MINERAL TRACT IS OFFERED "AS IS, WHERE IS". NO WARRANTY OR REPRESENTATION OF ANY KIND IS OR WILL BE MADE BY SELLER OR AUCTION COMPANY CONCERNING THE PROPERTY. Without limiting the foregoing disclaimer, no warranty or representation is or will be made as to the quality, quantity, value, condition, usability, suitability, or feasibility of extraction of any minerals which may or may not be included with the purchased mineral tract(s), or as to the title to any such minerals. Prospective bidders are responsible for conducting their own independent inspections, investigations, inquiries and due diligence concerning the property. The information contained in the marketing materials is provided in order to facilitate (and not as a substitute for) a prospective bidder's pre-auction due diligence. All marketing materials are subject to a prospective bidder's independent verification. Seller and Auction Company assume no liability for any inaccuracies, errors or omissions in such materials.
AGENCY: Schrader Real Estate and Auction Company, Inc. and its representatives are exclusively the agents of Seller.
CONDUCT OF AUCTION: The conduct of the auction and increments of bidding will be at the direction and discretion of the Auction Company. Seller and its agents reserve the right to preclude any person from bidding if there is any question as to the person's identity, credentials, fitness, etc.
CHANGES: Please regularly check www.schraderauction.com to review any changes and/or additional information.
THE PURCHASE CONTRACT DOCUMENTS WILL SUPERSEDE THE MARKETING MATERIALS AND ANY OTHER PRIOR STATEMENTS.