TOTAL SOLD: $1,965,000
| | | |
| --- | --- | --- |
| Tract(s): 1+3 | @ $1,740,000 | ($5,209/acre) |
| Tract(s): 2 | @ $225,000 | ($1,541/acre) |
• 480+/- Contiguous Acres
• 325+/- Tillable Acres per FSA
• Crop Productivity Index of 77.6 on Tillable Acres
• Predominately Barnes-Svea Loam Soils
• Combination of Tillable and Pasture
• Montpelier Township
Exciting opportunity to acquire quality farmland and pasture located just south of Jamestown, in Montpelier Township. The Hejduk farm is located in Sections 9 and 16, T137N, R63W and is a combination of 325 tillable acres and the balance in pasture. The farm will be offered in 3 tracts, allowing the farmland and pasture buyers to bid on any individual tract or combination of tracts that best fit their needs.
From Jamestown travel south on Highway 281 for 13 miles, turn left (east) on 49th Street SE toward Montpelier and follow for 3 miles. Turn right (south) on 86th Ave and follow for mile and property will begin on left side of road.
Open House / Inspection Dates
Tuesday, March 15th 9-11am
Wednesday, April 6th 3-5pm
The Club 1883/ Knights of Columbus (KCs)
519 1st Ave S, Jamestown, ND 58401
Tract 1: 92± ac with 90.58 tillable acres per FSA. Excellent tract, well drained with primarily Barnes- Svea Loam soils.
Tract 2: 146± ac of quality pasture excellent wildlife habitat running through the center of the farm, perimeter fence is present but in moderate condition.
Tract 3: 242± ac with 234.69 tillable acres per FSA. Another excellent farmland tract, well drained and Barnes-Svea Loam soils.
TRACT MAP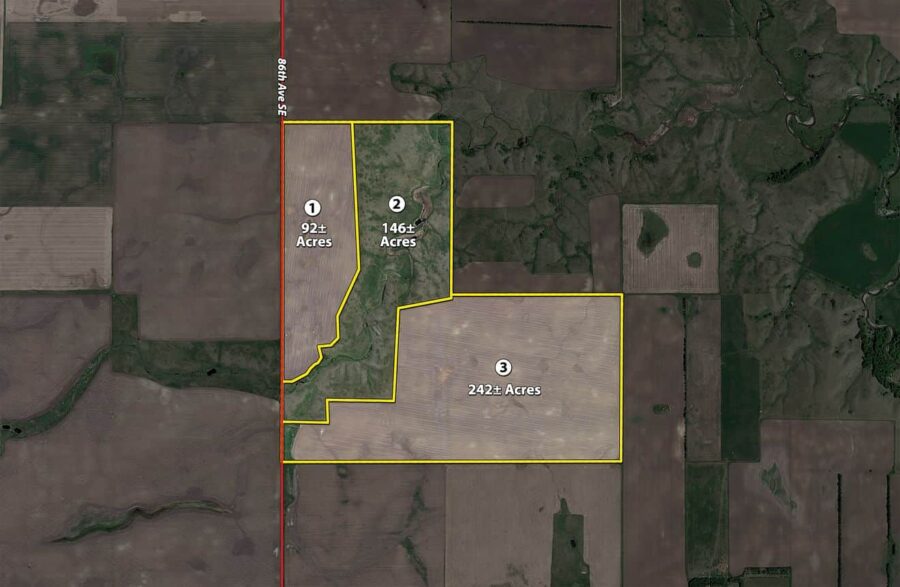 AREA MAP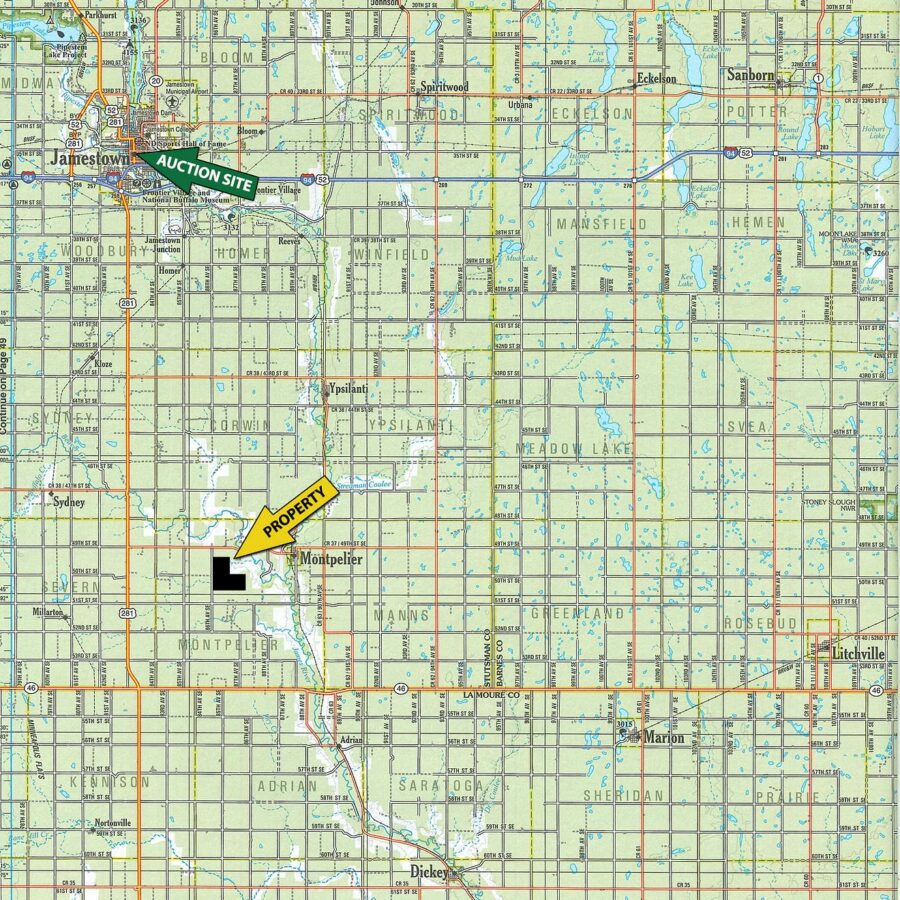 PROCEDURE: The Properties will be offered in 3 individual tracts, any combination of tracts, and as a total 480+/- acres. There will be open bidding on tracts, combinations, and the whole during the auction as determined by the Auctioneer. Bids on tracts, combinations of tracts and the total property may compete.
DOWN PAYMENT: 10% down payment on the day of auction. The down payment may be made in the form of cashiers check, personal check, or corporate check. YOUR BIDDING IS NOT CONDITIONAL UPON FINANCING, so be sure you have arranged financing, if needed, and are capable of paying cash at closing.
ACCEPTANCE OF BID PRICES: All final bid prices are subject to the Sellers acceptance or rejection. All successful bidders will be required to sign Purchase Agreements at the auction site immediately following the close of the auction. The form Purchase Agreement is available for your inspection.
DEED: Seller shall provide a warranty deed (with customary trustee provisions) or equivalent deed sufficient to convey insurable title to the real estate. Real estate is sold subject to all rights of way, legal highways, leases, easements of public record, and all other matters of public record.
EVIDENCE OF TITLE: Seller will provide a preliminary title insurance commitment to review prior to auction, the cost of the standard coverage owners title insurance shall be paid by Seller. The cost of any lenders title insurance, special coverage or endorsement shall be charged to Buyer.
CLOSING: The balance of the purchase price is due at closing, which will take place 45 days after the auction, or as soon thereafter as applicable closing documents are prepared by the Seller. Costs for an administered closing shall be shared 50:50 between Buyer(s) and Seller. All lender costs relative to the Buyer securing a mortgage and lenders title insurance policy shall be paid by the Buyer(s).
POSSESSION: Immediate possession, for purposes of Spring 2022 farming activities, is available upon completion of the Pre-Closing Access Agreement.
REAL ESTATE TAXES: Buyer shall assume 2022 calendar year taxes due in 2023.
ACREAGE: All tract acreages, dimensions, and proposed boundaries are approximate and have been estimated based on current legal descriptions and/or aerial photos.
SURVEY: The Seller shall provide a new survey where there is no existing legal description or where new boundaries are created by the tract divisions in this auction or where Seller otherwise determines a survey is appropriate. Any need for a new survey shall be determined solely by the Seller. Seller and successful bidder shall each pay half (50:50) of the cost of the survey. Combination purchases will receive a perimeter survey only. Final sales price shall be adjusted to reflect any difference between advertised and surveyed acres.
PROPERTY INSPECTION: Each potential Bidder is responsible for conducting, at their own risk, their own independent inspections, investigations, inquiries and due diligence concerning the property. Inspection dates have been scheduled and will be staffed with auction personnel. Further, Seller and Auction Company disclaim any and all responsibility for Bidders safety during any physical inspection of the property. No party shall be deemed an invitee of the property by virtue of the offering of the property for sale.
EASEMENTS: Subject to any and all existing easements.
AGENCY: Schrader Real Estate & Auction Company, Inc. and their representatives are exclusive agents of the Seller.
DISCLAIMER AND ABSENCE OF WARRANTIES: All information contained in this brochure and all related materials are subject to the terms and conditions outlined in the Purchase Agreement. The property is being sold on an AS IS, WHERE IS basis, and no warranty or representation, either expressed or implied, concerning the property is made by the Seller or the Auction Company. All sketches and dimensions in the brochure are approximate. Each potential bidder is responsible for conducting his or her own independent inspections, investigations, inquiries, and due diligence concerning the property. The information contained in this brochure is subject to verification by all parties relying on it. No liability for its accuracy, errors, or omissions is assumed by the Seller or the Auction Company. Conduct of the auction and increments of bidding are at the direction and discretion of the Auctioneer. The Seller and Selling Agents reserve the right to preclude any person from bidding if there is any question as to the persons credentials, fitness, etc. All decisions of the Auctioneer are final. Your bid is based solely on your inspection.
ANY ANNOUNCEMENTS MADE THE DAY OF THE SALE TAKE PRECEDENCE OVER PRINTED MATERIAL OR ANY OTHER ORAL STATEMENTS MADE.